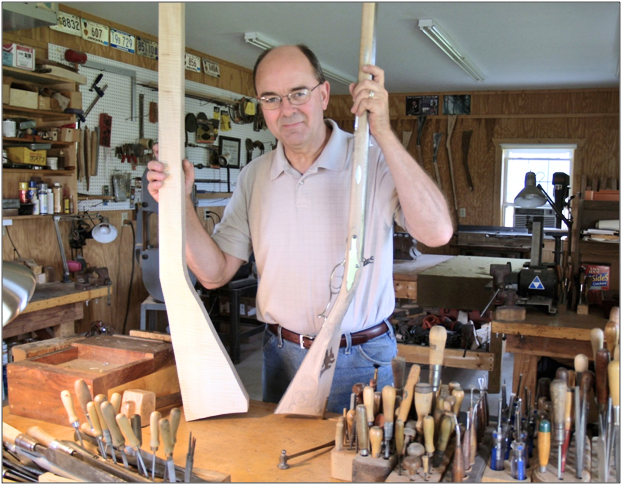 I was born and raised in the country outside of Ferdinand, Indiana, a community of predominantly German heritage. I've been exposed to the world of Kentucky Rifle gunmaking my entire life.  My father, Cornell Kemper, began building custom longrifles shortly after WWII and continued his craft on a full-time basis for the next fifty years.  He was best known for his Berks Co. "Roman Nose" rifles adorned with an array of engraved inlays.  For a thorough history on his gunmaking career, I encourage you to read the February, 2005 issue of Muzzle Blasts magazine.
As a child, I spent considerable time in my father's shop.  Even at a very early age, he gave me free reign to his tools and supplies.  I now realize that this was a sign of a father's wisdom, as he knew there was no better way for me to acquire the skills of crafting objects from metal and wood.  I built my first Kentucky longrifle in 1972 at the age of thirteen.  It goes without saying that I apprenticed to my father.  While college, marriage and childrearing consumed much of my time over the years, I always maintained my interest in the longrifle and continued a dedicated hobby of gunmaking.  In the spring of 2013, I made a decision to move away from my corporate desk job and follow my passion on a full-time basis.  It has been a fulfilling transition as I look forward to each new day with much anticipation.  Another great reward is the many good friends that I've made and continue to make along the way.
As a second generation gunmaker, I find great pleasure in continuing the tradition of providing quality longrifles to people who genuinely love the lure of the Kentucky longrifle and the part it played in the development of our country.  I never get tired of telling the story of the "Kentucky" and why it is a distinctive American invention…born out of necessity and circumstances.
For a quality and authentic Kentucky longrifle, I encourage you to contact me to discuss your interests.
Regards,
Marvin Kemper
Liberty Longrifles LLC · Marvin Kemper, Gunmaker
8996 Winery Road, Wadesville, IN 47638
PHONE: 812.430.1992 · EMAIL: libertylongrifles@gmail.com